Accessible data is the added value
Bosch Rexroth presents ctrlX AUTOMATION, a platform capable of providing complete automation solutions with a high degree of scalability. This is an open system, already chosen by some of the company's partners, which guarantees the accessibility of data, which is never duplicated but
made available in an open and flexible manner, with a view to the deep interconnection of systems and machines.
The sharing of know-how within a global community where the skills of various professionals meet, merge and evolve is the real future of increasingly open and accessible ecosystems. The philosophy behind the Bosch Rexroth ctrlX AUTOMATION platform is that of 'two steps ahead', offering complete automation solutions with a high degree of scalability. It's an open system that allows the integration of third-party apps, hardware and software. In addition, this is a system that guarantees high performance in terms of connectivity and compatibility with every automation interface. And it all comes with complete freedom in terms of the development environment and programming language. The counter-trend choice of using Linux as the operating system has proved successful, due to its stability and reliability. At the heart of the architecture is ctrlX Data Layer, allowing simple real-time access to all the system variables and guaranteeing up to 8 million potential logins per second. The platform can be accessed by the global community of developers who create new functions using the programming languages that they themselves have chosen. This is a strategic aspect that greatly speeds up both innovation development and process improvement. Thanks to the app concept, it will be possible to tackle new frontiers such as 5G, for which it will be sufficient to just download and integrate the 5G application. This makes it an open ecosystem without limits, and anyone can download it and add new applications. Customers are now active players and can create their own customised apps based on the ctrlX AUTOMATION system, where the medium is no longer an obstacle to be overcome and the platform is both a tool and a solution for handling the new challenges in the field of industrial machine automation in a flexible, fast and innovative way.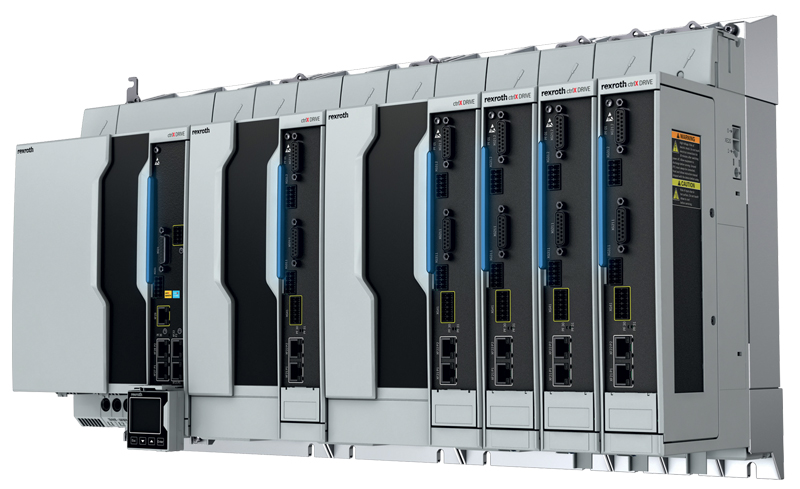 An open, digitised and interconnected ecosystem
Today we find ourselves in a context of digitisation and driving innovation, where everything revolves around data. Data continues to be a constantly evolving area that touches on all those industrial environments that have experienced first of all a shift to electrification and then to digitalisation. The market continues to unfold with regards services and Bosch Rexroth, as a supplier of components and systems, always knows how to interpret every type of need, coming up with solutions that stand out from the rest. The national Industry 4.0 Plan launched in 2016 has certainly accelerated and changed end users' perception of the value that digitisation can bring in terms of competitive advantage, market leadership and the kind of experience they can offer their customers. Digitisation translates into the need and the possibility to retrieve more data and information from machines and make them available. These data then allow the creation or development of new business models or services that, until recently, were unthinkable. Today, a digitised machine provides a whole range of supplementary information that can be supplied, sold or offered via additional applications and systems such as data analysis, preventive and/or predictive diagnostics, and a variety of statistics. A practical example of this is the ctrlX AUTOMATION platform, which guarantees the accessibility of data. Data which are never duplicated but are made available in an open and flexible manner aimed at the profound interconnection of systems and machines. In the past, the absence of data management made this kind of interpretation and openness impossible. Collecting data is feasible and easy nowadays, but it's harder to understand what data are really needed and how to manage them. It's no coincidence that software solutions from machine manufacturers have increased over the past two years, driven by the need to provide customers with additional services. Accessible data within an open ecosystem allows you to create a unique experience for customers.
How digitalisation has changed service
In recent years, digitisation and Industry 4.0 have brought countless advantages in the field of maintenance: firstly connectivity and fast access to information, and secondly direct monitoring (also remotely) along with the possibility to predict machine behaviour. Connectivity and the prompt availability of key maintenance information mean that the customer's problems are resolved more quickly. Another characteristic is the possibility of direct monitoring, even remotely, and of predicting the behaviour of machines and systems, thanks to the availability of databases regarding operating logs or self-learning functions (machine learning). The benefits in this case are a reduced risk of unplanned machine downtime, maintenance scheduling based on objective data, and optimisation of strategic spare parts warehouses and maintenance costs. Bosch Rexroth adopts a digital approach to respond to a whole series of requests made in a similar manner. One practical example of how service has evolved is when customers report a situation of machine downtime and, thanks to the new systems, you can guide them remotely, getting them to scan the QR code of the component so you have accurate info about the serial number, product type and various other essential details. In the past, even just merely collecting this information – now done in real time – required far more time and effort. The Digital Service Assistant app is now standard for Bosch Rexroth, and is provided to customers so they can link up with operators and download documentation. Again, this app shows how data can be used in a simple and user-friendly way, without the need for any special skills, to get quick and useful information in return.
The new drives will be able to generate dynamic QR codes to provide a range of static information (such as the serial number of the product, when it was produced, the code and the firmware). It is "dynamic" because provides information about the type of problem encountered, and also collects the system logs that offer service providers vital information for identifying and hence resolving the issue. Today, the machine can facilitate human intervention by providing a range of dynamic or static information which is useful for defining the problem. All this makes for quicker, more responsive and more precise troubleshooting. If Italy wants to maintain a certain level of market share, it must continue to differ by pioneering certain technologies. In terms of additional services, Bosch Rexroth – as a supplier – actively contributes to this aim with its ground-breaking ctrlX AUTOMATION platform and SDK (Software Development Kit), needed to create new apps for production lines, ranging from predictive analytics and artificial intelligence analysis or evaluation to efficiency calculation algorithms and augmented reality. From the manufacturer's point of view on the other hand, the services made available to its customers are predictive or preventive diagnostics, and data analysis to check for difficulties within a process (in other words, greater control over OEE). Until recently, it was unthinkable that a manufacturer could provide software to better organise his company. The intention, therefore, on both the supplier and end user side, is to make a whole range of data available as a genuine additional service.